Our innovative tilt and turn windows combine sleek aesthetics with smart design. Keeping your home stylish and secure, with a unique 'tilt and turn' function that allows homeowners to benefit from the innovative functionality that will work brilliantly in any home.
Our stylish tilt and turn windows in Hornchurch, Edgware, Essex and Middlesex offer great aesthetics whilst being practical and functional. These uPVC windows combine great looks with a revolutionary design for a modern and versatile uPVC window solution.
These impressive windows provide a clean minimalist appearance, which has the ability to open up any room with unobstructed views. Whilst the multi-functional operation makes them the ideal choice for ground floor and upper floor apertures alike.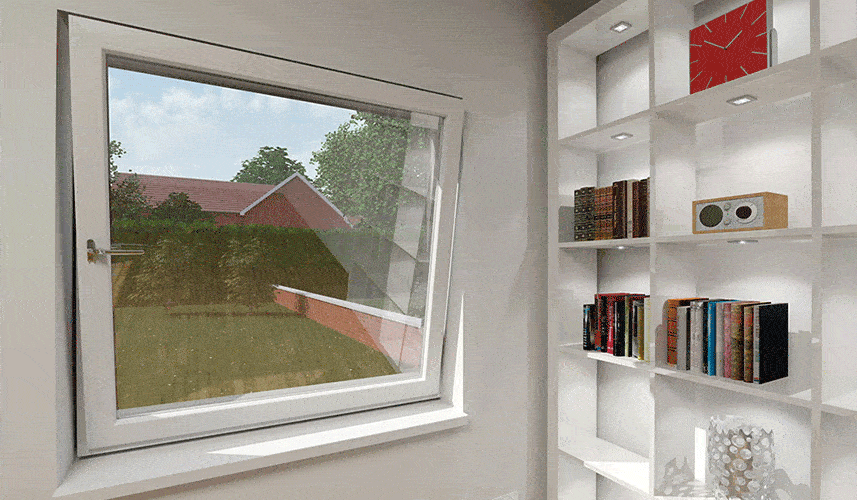 Stylish Design
The stylish design of our tilt and turn windows provide homeowners with a fantastic aesthetic which is created by the slim profile and single glazed area. This results in a large glazed area that will complement your home in Hornchurch, Edgware, Essex or the Middlesex area.
The extensive glazed area gives you an fantastic unencumbered view outside which helps to open up any room of your property. Another wonderful benefit is the increased volume of natural sunlight that will enter, increasing the feeling of spaciousness.
The ingenious design includes an integrated gearing mechanism that allows unique functionality in two distinct ways. With a simple quarter turn of the handle the sash can tilt open, a further quarter turn enables the sash to swing fully open to a 90° angle.
The tilt function offers safe and controlled ventilation. This is perfect for window solution for bungalows where ground floor aperture need to remain secure. It also works well to keep children safe from the risk of falling from upper floor openings.
The turn function offers many benefits, such as maximum ventilation for air circulation as well as expansive views that beckon the outside in. It also allows for easy accessibility for cleaning as well as providing an alternative emergency exit.
Easy To Clean
Tilt and turn windows from Concept Windows and Conservatories make the perfect choice for homeowners living in high rise apartments in Hornchurch, Edgware or Essex – or even for upstairs windows of homes. Due to the ease of cleaning both sides of the window pane from inside your home.
The innate strength and durability of our uPVC profiles mean that they are built to last without ever rotting, warping or cracking. They will never fade or discolour, resulting in windows that are virtually maintenance free.
To keep your windows looking beautiful or you need is to give them a quick wipe down with a damp cloth from time to time. They will keep their stylish aesthetic without the necessity of repainting or varnishing that come with traditional timber windows.