Beautiful aluminium bi-fold doors can really enhance your Essex home. The luxurious entrance will provide you with a superb open space that you can enjoy. Not only that, but the exceptional quality of our aluminium sliding doors will ensure you receive many years of impressive performance.
Whether you use your outside area for social gatherings, or for family dining, our Aluminium Bi-Fold Doors enable you to create a seamless union between the outdoors and your home, resulting in a lifestyle enhancing experience. The way you use your indoor and outdoor living spaces will be completely changed for the better, giving you more options and more pleasure. 

Timeless yet Modern Design
The beauty of our Aluminium Bi-Folding Doors lies in their stunning timeless yet modern design. They offer a contemporary entrance to your garden that will never become outdated.
The superb panel arrangement, which incorporates between 2 and 8 panels, can be customised to fold a certain way, suiting your home and the space you have perfectly. This gives you brilliant control over the design of your door, ensuring it is the perfect match for your home.
Of course, no design would be complete without bespoke finishes, and our bi-fold doors are the same. Because they are constructed from high quality aluminium, these doors are available in 8 standard colour finishes and over 250 customised RAL colours. Whether you want your new aluminium sliding door to be a bold and striking feature, or you prefer a classical look that blends in with your property and surroundings, our doors can be colour coated to suit you.
The frame of our Aluminium Bi-Fold doors offers delightfully ultra slim sightlines, which ensures that your viewing area is maximised. You can rely on our gorgeous sliding doors to complete the superb aesthetic of your home with style and grace.
Energy Efficient Bi-Fold Doors
Of course, looks are important, but it is also a primary consideration when choosing a new aluminium bi-folding door that they offer performance too.
Our beautiful double glazed sliding doors provide you with outstanding thermal performance. The energy efficiency is incredible and is achieved through clever engineering and innovative design. The Visofold profile system uses the very latest polyamide thermal barrier technology. This ensures that these double glazed bi-fold doors protect your home from draughts and heat loss.
When coupled with our superb double glazing, these aluminium bi-fold doors have an impressive U value of just 1.8. For supreme efficiency, you can opt for triple glazing which brings the U value down to an incredible 1.6.
You can be confident that our Aluminium Bi-Fold doors will keep your Essex home warm and cosy no matter how cold it is outside.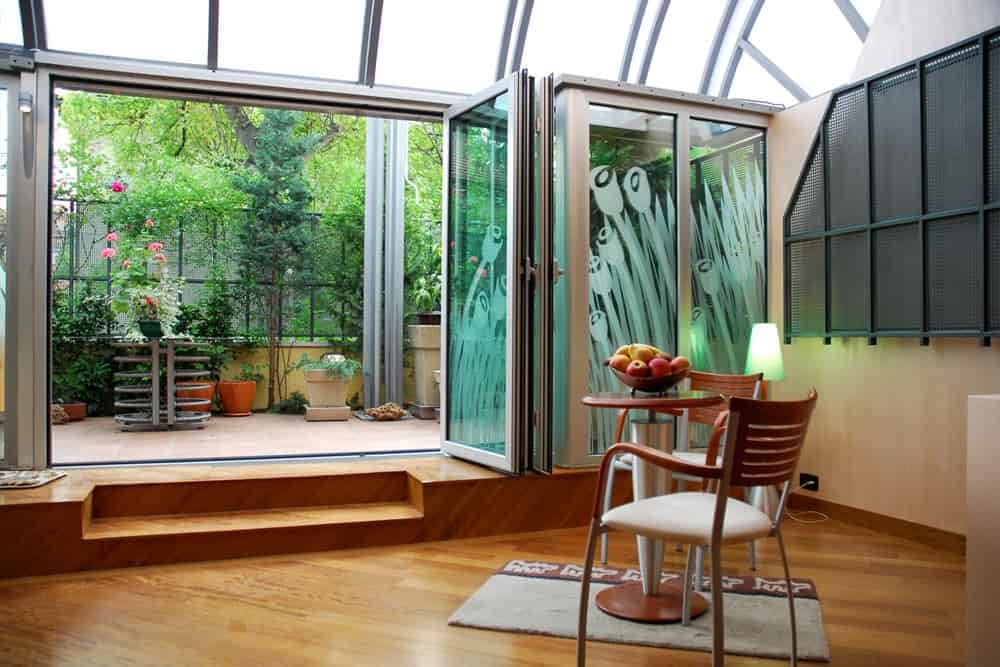 Security Focused – Why Aluminium is the ideal material
One of the most incredible benefits of aluminium is its inherent strength. Up to 75% of aluminium in use today was first used in the 1860s, and that is because aluminium can be reused and recycled time and time again without ever losing its superb qualities.
Aluminium is almost impossible to damage due to its fundamental merits. What makes our aluminium bi-fold doors exceptionally secure is this core strength combined with our state of the art locking mechanisms. We install a three point locking system that is Secured By Design accredited as standard. This police preferred locking system has been rigorously tested to ensure it meets the highest standards.
Should you want additional security, we offer the optional upgrade to the ATK diamond grade Euro cylinder which further enhances the protection provided by your aluminium bi-fold door.
Aluminium Bi-Fold Door Prices Essex
You can achieve these opulent and luxurious aluminium bi-fold doors for your Essex home for less that you might think. We strive to be the most cost effective double glazing installer in the area, and we are one of the most competitively priced companies.
Our aluminium sliding doors offer unrivalled prices that are combined with outstanding quality and performance.
We will happily give you a free, no obligation aluminium bi-folding door quote that is tailored to your specifications. You can either contact us and we will discuss your needs in detail with you, or you can visit our online quote calculator and get a completely unique price created just for you. It's simple and efficient, so you will receive your aluminium sliding door quote in just a few minutes. Try it now!