Does your double glazing steam up? Is there condensation on the inside? If so, our replacement glass units are the perfect, cost effective solution for your Essex home.
Why replace double glazed windows that you love, and that suit your home perfectly, when we can install brand new replacement glass and give them a new lease of life?
Is it Time to Replace your Glass?
Sometimes the double glazing in your Essex home can start steaming up or it can be broken due to an accident. This can mean that it becomes a waste of energy and money, allowing precious heating to escape your home. It can also significantly impair your view, as condensation affects the clarity, light and visibility through the glass. Whatever the damage, you will need to replace the glass in your windows so that it keeps your home and family safe and protected.
Concept Windows are able to provide replacement glass units without taking out or disrupting the framework. This clever repair means that you could potentially save hundreds of pounds in the long run. Not only that, but replacing the double glazing in your existing double glazed sealed units can significantly improve the thermal efficiency of your home and is environmentally responsible.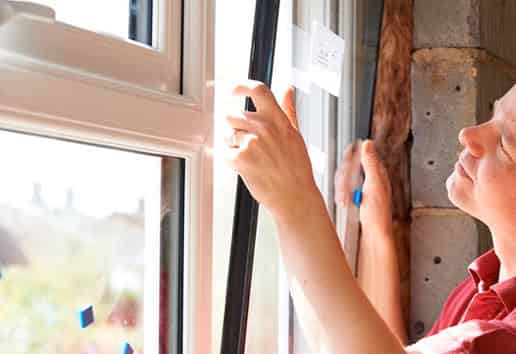 A Cost Efficient Alternative
Of course, it is much cheaper to replace the sealed units in your double glazing rather than replace it with new uPVC or aluminium products in the short term. In the long term, it also creates savings that you will appreciate as the years go by. Your energy bills will be much improved when you have high quality double glazing that effectively protects your home from the weather outside. Draughts will be eliminated and heat loss is minimised when your double glazing is working to the standard you would expect. All this will save you money on your household bills!
Energy Efficient Replacement Glass
Our replacement glass is exceptionally energy efficient. This superb double glazing is A energy rated as standard, which will help you to stay warm when the weather outside is cold as well as reducing those monthly energy bills.
Our replacement double glazing is designed to keep your home or conservatory fully weather proof and highly insulated. Not only that, but it is eco-friendly, helping you lower your carbon footprint, meaning your double glazing is better for home and environment.
A Range of Designs
When it comes to design, we are able to offer a wide range of stylish glazing options, patterns and finishes for to complete the look of your double glazed windows and doors. Whether you are looking to maintain character or want to create a statement, we have hundreds of glass designs to choose from.
In addition to this, we provide a comprehensive range of textured glass. This outstanding glass can be toughened or laminated for additional safety and security. The impressive benefits of choosing textured glass will enhance your lifestyle. You can maintain your privacy or perhaps hide an unattractive view, without losing the natural light that you have come to appreciate in your home.
Our highly skilled installation team can replace almost any kind of double glazing. This includes traditional lead-patterned and Georgian style windows in any type of frame. So whether your double glazed windows are constructed from aluminium or uPVC, we can help.
There are unlimited stylish and beautiful double glazing options available for your new windows, so whatever style or design you dream of for your Essex home, we are sure to have something in our range of replacement double glazing to suit you.

Replacement Glass Prices Essex
Our range of replacement glass is exceptionally priced to enhance your Essex home while still offering value for money. You can save so much by choosing replacement double glazing rather than a complete new window system for your property, and that is why our replacement glass services are so popular.
We are more than happy to discuss the options available to you and guide you through your choices, so please do not hesitate to contact us. We offer outstanding customer service and we will be able to provide you with a free, no obligation replacement glass quote for your Essex home.
Whether you have just one window suffering from condensation, or several, we are able to come to your home and rectify the situation with the minimum of fuss and disruption. Give us a call on 01708 463563! We would love to hear from you.