A high quality uPVC door can substantially enhance the aesthetic, security and thermal efficiency of your Essex home. Concept Windows offer a versatile and comprehensive range of high quality uPVC doors, that can be adapted to the needs and tastes of any and all Essex homeowners.
Our uPVC door selection includes Stable Doors, French Doors, Patio Doors, Bi-Fold Doors. We also include front door and back door styles in our uPVC door range.
High Quality uPVC Door
Every uPVC door from our selection achieves exceptional standards of uPVC door quality. Featuring an incredibly low maintenance material, all uPVC doors can uphold an 'as new' look with nothing more than the wipe of a cloth. This ensures your Essex home will always look its best, and you won't need to spend your time keeping it this way.
Any uPVC door we supply also displays exceptional levels of durability, refusing to rot or warp over time. This ensures that all of our uPVC doors uphold their high levels of quality for many years to come, and won't be detrimental to the security, or thermal efficiency of your Essex property.
Featuring adaptable uPVC door design, our range of glass and panel options allow for a substantial selection of uPVC door styles, including side-screens, arched frames and mid-rails.
Concept Windows are a FENSA registered company, this means that our whole uPVC door range is in complete compliance will all modern building regulations. High quality products, and high quality service in the Essex area, with Concept Windows.
Highly Secure uPVC Door
Our whole uPVC door range has Secured by Design approval. This means that they achieve exceptional levels of security for your Essex property.
Secured by Design are a police back initiative that focuses on crime prevention. By placing a uPVC door through an extensive testing process, Secured by Design are able to measure the security standards that a uPVC door upholds. They only apply their accreditation to a product that passes these comprehensive tests.
This high level of uPVC door security is achieved through the installation of high security multi-point and shootbolt locking systems, this ensures that your Essex home is guaranteed to hold steadfast against would-be intruders.
Thermally Efficient uPVC Door
All of our uPVC doors reach an exceptional Window Energy Rating of 'A'. This ensures the highest levels of thermal efficiency available, and means that your Essex property will stay warm and cosy on those cold winter nights.
A Window Energy Rating (WER) is appointed by The British Fenestration Rating Council (BFRC). The BFRC are a universally respected source for thermal efficiency ratings, and by achieving an 'A' energy rating on every uPVC door, these doors display exceptional standards of energy efficiency.
Effective thermal efficiency enhances the heat retention of your Essex property, which allows you to save money on your energy bills and cause a notable reduction in your carbon footprint.
uPVC Door Styles
Our uPVC door range offers a selection of styles and designs that can enhance, and expand the versatility of your Essex property.
uPVC Doors
Choosing the right uPVC front door and back door can completely change the dynamic of your Essex property. Acting as a focal point for your home, our front door and back door designs are simple, sophisticated and efficient. They are sure to be a welcoming feature for any Essex property.
Featuring high quality locking systems and 'A' rated energy efficiency, every front door or back door you purchase from us will prove itself to show the highest levels of uPVC door available, excelling in security and energy management.
Every front door or back door is available in a range of beautiful colours and finishes, including an exceptional woodgrain finish that features a unique bonded foil, incorporating a 'grain relief' that completely captures the look and feel of a timber door, but maintains the maintenance free nature of a uPVC door.
Stable Doors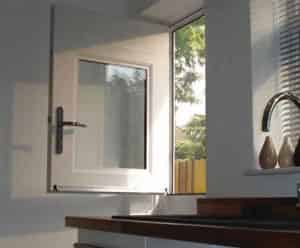 As a uPVC door, a stable door is a beautifully traditional and charming addition to any Essex property. Featuring multi-functional qualities, a stable door also excels in functionality.
Featuring a unique uPVC door design, a stable door consists of two independent sashes that can operate separately from each other. This allows you to improve ventilation and views without compromising on security or safety.
For example, on those hot sunny days you can open the top sash to let some air in, but keep the bottom sash closed to keep your little loved ones and pets safely inside your Essex property.
To increase accessibility into your Essex home, all stable doors can also be fitted with low thresholds. This is an ideal addition for any wheelchair or pushchair users, and will ensure increased ease of access for all.
All of our stable doors achieve high levels of uPVC door security and thermal efficiency, featuring high security locking systems and 'A' rated thermal efficiency. Stable doors are an aesthetically pleasing and functionally practical addition to any Essex home.
French Doors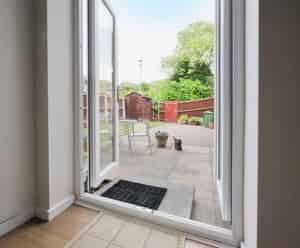 French doors are a beautiful way to bring a continental flare to your Essex home. Featuring a wonderfully crisp European aesthetic, our French doors are a stylish and enriching addition.
All of our French doors utilise innovative Eurocell technology. This allows you access to the very best French doors on the market. Due to the intelligent uPVC door design, French doors open outwards whilst carrying the mullion.
This means that there is no fixture left behind, and you can enjoy a wide open space where the French doors normally are. When this is combined with a low threshold, you can bring maximum accessibility to your Essex property for wheelchair and pushchair users.
French doors are available in a range of sizes, up to 2 metres wide. This allows them to be a striking and impressive uPVC door entrance. They are also incredibly versatile, and can be easily fitted into any current conservatories.
All of our French doors achieve an 'A' standard energy rating, and are fitted with high quality locking systems. This means that they will secure your Essex home, and greatly increase its thermal efficiency.
Patio Doors
Patio doors are an excellent choice for any and all Essex properties. They feature a sliding mechanism that holds unique space saving benefits, by eliminating swing space, Patio doors enable you to maximum the space of any room they are installed in.
Although featuring large panels of glass that enable enhanced views and increased natural light, patio doors are exceptionally easy to use. They consist of a very simple sliding mechanism that offsets any uPVC door weight, and enables you to simply and smoothly open your uPVC door.
Versatile in design, patio doors can also be fitted with a 'tilt' function. This allows you to tilt the uPVC door on a 90° angle which offers a lockable ventilation feature , that doesn't compromise on security.
All-round patio door security is verified by Secured by Design approval. This illustrates that by combining high security locking systems with a high quality uPVC profile, our patio doors achieve top-ranking uPVC door security.
Available in a range of colours and panel options, our patio doors can be fully tailored to your Essex home. We'll make sure they are not only an addition of your property, they are also and extension of your tastes.
Bi-Fold Doors
Bi-fold doors are a stunning and innovative addition to any Essex property. Consisting of intelligent uPVC door design from Eurocell, bi-fold doors allow for unrestricted views in a single, swift movement. Also, with 90% of the uPVC door aperture folding away, bi-fold doors allow for a completely unobstructed entrance.
Featuring Anti-Jemmy pins, high security locking systems and a robust uPVC profile, bi-fold doors feature exceptional levels of uPVC door security. They are also fitted with triple weather seals to improve insulation and thermal efficiency, resulting in an exceptional 'A' WER.
Bi-fold doors are available in a range of panel numbers and designs, which means they can be easily fitted and tailored to any Essex property.
uPVC Door Prices
Interested in our uPVC door prices? Don't delay in getting a free and easy online quote from us today. It's quick, simple and will allow you to benefit from our incredibly competitive prices.
If you require more information, you can contact us via our online enquiry form or call us on 0800 289 299. Where a member of friendly and helpful team will give you a prompt and informative response.