uPVC windows in Essex are a fantastic option if you are looking for energy efficiency, extra security and a range of attractive designs. Concept Home Improvements offer a variety of uPVC windows including the most popular casement windows, multi-functional tilt and turn windows, spacious bay and bow windows and traditional sliding sash windows. With such a vast selection you are bound to find the perfect uPVC windows for your home in Essex.
Concept also offers replacement glass units for uPVC windows in Essex that are subject to condensation build up. Is your view impeded by steamed or misted glass panes? If the answer is yes there's no need to worry. Concept can replace just the glass unit without disrupting any of the framework. This is a great way of saving you money and making your windows look as good as new again.

Casement Windows Essex
Casement windows in Essex are a highly popular uPVC window option that we supply and fit time and time again for happy homeowners. A main advantage to choosing our uPVC casement windows is they're extremely low maintenance, so you hardly ever have to worry about their up keep. All you have to do is give them a quick wipe with a damp cloth once in a while and they'll remain as good as new.
Our casement windows are also highly secure. Each uPVC window Essex comes with high security built in multi-point locking systems as standard for your peace of mind. With internal beading and super secure framework you can keep your home and family safe and secure.
Sash Windows Essex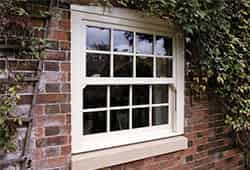 Sash windows Essex are also a highly popular option for homeowners with more period style properties. A fantastic way of maintaining the traditional charm and character of timber sliding sash windows whilst benefiting from the advantages of Eurocell's advanced uPVC windows system.
There are many reasons why you should consider upgrading your tired timber sash windows to brand new uPVC windows. Do you often find your home is draughty and lets in unwanted noise? If this is the case then your old timber windows should be replaced with far more energy efficient uPVC windows. Concept have exactly what you require and can work with you to upgrade your uPVC windows.
Energy Efficient Windows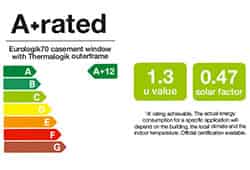 All our uPVC windows are very energy efficient and come with an impressive Window Energy Rating of A+12. Here's a fact for you; around 20% of heat generated by your central heating escapes through your widows.
We know choosing to have a whole house of new windows installed can be a big job so it's important to get it right. This is why we guarantee that you will reap the benefits of our energy efficient uPVC windows for many years after installation.
By selecting energy efficient uPVC windows in Essex you will also be saving money on your heating bills, saving up to around £130 per year. Enjoy a warmer living environment as hardly any heat is lost through your uPVC windows. You can also benefit from a quieter home as the insulating properties are increased.